Did you know that B2B Lead Generation is a $100 billion industry?
But how do these businesses know which strategy to invest in? There are tons of B2B lead generation strategies, after all. From the most famous Content Marketing to Referral Marketing, the one with the highest retention rates. But these are not the only ones. The retention from both of these strategies is backed by other strategies, such as SEO, Social Media Marketing and Email Marketing. 
And that's where we jump in! 
In this blog, we'll cover 5 B2B lead generation strategies that are proven to work by experts. 
Referral marketing

SEO 

Content marketing

Email marketing

Social media marketing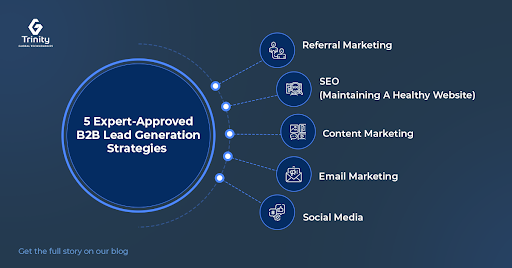 Strategy #1: Referral marketing – How to turn your Customers into Advocates
Referral marketing is a type of word-of-mouth marketing where you encourage your existing customers to recommend your services to their contacts. It's one of the most cost-effective and powerful lead generation strategies, as referred clients are 4 times more likely to buy from you and refer to others as well. 
And this creates a virtuous cycle of referrals.
Quick tips for referral marketing 
Offer incentives and discounts to both referrer and referee. This will encourage your clients and make it easy for them to refer. 

Promote your referral program via emails and social media campaigns

Use referral software to create and promote your referral program. This will also help you to track your rewards program, conversions and even ROI. 
Referral marketing is a nurturing lead-generation strategy because it is based on the trust and credibility you've established with your existing clients. Because, when you ask your clients to suggest you, you're really asking them to risk their reputation.
By providing incentives and making it simple to recommend, you show that you value their business and their trust.
Strategy #2: SEO – Maintaining a Healthy Website 
SEO is the lead generation strategy that improves your website's visibility and relevance on search engine pages. The higher your website ranks in SERPs, the higher is the number of potential clients that are actually interested in your solutions. These are the clients that found you when they googled relevant keywords. 
Quick tips for maintaining a healthy website through SEO 
Research relevant keywords. 

Create high-quality content. 

Optimize your website for speed, devices, and UX. 

Earn backlinks from high-quality websites. 

Publish new content regularly. 
Strategy #3: Content Marketing – A Cost-Effective Way to B2B Lead Generation 
Content marketing generates three times as many leads as traditional marketing, costs 62% less, and has six times higher conversion rates.
Content marketing is one of the most popular B2B lead-generation strategies out there. It's also one of the most cost-effective as well. With content marketing, you'll attract, & nurture leads and eventually convert them into paying customers. Content marketing is beneficial for B2B lead generation because it helps you educate, inform, and persuade your potential customers throughout their buyer journey.
Quick tips
Identify your target audience. Who are you trying to reach with your content? What are their needs and interests?

Create high-quality content that's relevant to your TG. 

Promote the content via social media, email marketing, and other channels where your TG is active. 

Measure your results. 
Content Marketing can be a lot of work. But it's worth it. It's a convincing B2B lead generation strategy that establishes you and your brand as an expert in your field. 
Strategy #4: Email Marketing 
Email Marketing has an average ROI of 4200%
Email marketing involves sending emails to a list of subscribers who have opted in to receive communications from you. It is great for B2B lead generation since it allows you to engage directly, personally, and timely with your potential customers.
It's an excellent approach that helps you stay in touch with current and prospective customers and nurture them through the sales funnel. You can send frequent email newsletters with valuable material, such as blog posts, special offers, and case studies, to potential customers whose email addresses you have collected.
Quick tips to use email marketing in your B2B lead generation
Segment your email list. This will allow you to send more targeted and relevant emails.

Write compelling subject lines. 

Write clear and concise email copy. 

Design responsive, mobile-friendly and attractive email templates.

Test and optimize your email campaigns. 

Save time by automating your email campaigns.

Collect emails of your leads via your website, & social media. 
Email marketing allows you to showcase your products, services, and unique selling points in the most direct and personalized way. 
Strategy #5: Social Media Marketing – An engaging way to B2B lead generation 
84% of marketers use form submissions to generate leads from social media platforms.
Social Media Marketing is the most engaging B2B lead generation strategy. When you manage SM effectively, your content, and engagements will help you generate leads quicker.
Quick tips for a successful social media marketing campaign,
Choose the social media platform that's most popular with your target audience.

In SM marketing, make consistency your topmost priority. 

Engage with your audience by responding to comments and questions.

Run social media advertising campaigns to reach a wider audience
With a powerful SM strategy you reach a wide range of audiences, showcase your brand, engage with your audience and organically drive traffic to your website and landing pages. And this traffic is what ranks your website on SERPs. 
Did you identify the common entity in all of these strategies?
It's your target audience. 
And all of these lead-generation strategies are about building relationships with them. And when you focus on providing value to your audience, you'll be more likely to generate leads that convert into customers. 
But these strategies are not isolated tactics. They are pieces of a bigger puzzle. And with the goal of delivering you the perfect piece, we at Trinity Global Technologies are experts in solving that puzzle.