With tech developing at a rapid rate, account-based marketing (ABM) is a growing trend in the B2B world. Result? More and more B2B businesses with long sales cycles are implementing account-based marketing. But, the concept of ABM is filled with big promises and a bundle of confusion. 
In the past, the primary goal of marketing was to generate leads and acquire new clients. But, today marketing is beyond simply generating a list of potential clients. It extends to upselling and even cross-selling your company's existing clients. And, this is especially the case when you have large deal sizes and long sales cycles. 
The core of account-based marketing revolves around aligning sales and marketing teams; with the goal of focusing on a small number of potential clients for whom you are convinced that your products and services would be the best. It's an entirely different approach from other strategies. Here, the B2B marketers identify a small set of companies (approx. 50) and target key decision-makers of these companies by name. This means the targeting is done individually in a structure.
Check our guide on how you can effectively align your sales and marketing team!
But how can one implement such a personalized strategy effectively? This blog gathers that all in one single framework. The 5D framework of ABM. 
It's a strategic approach that would focus all your resources on converting your most important accounts. Dig deeper and check out how you can define, discover, develop, deploy, and data to ensure your account-based marketing campaigns are giving out the results you want!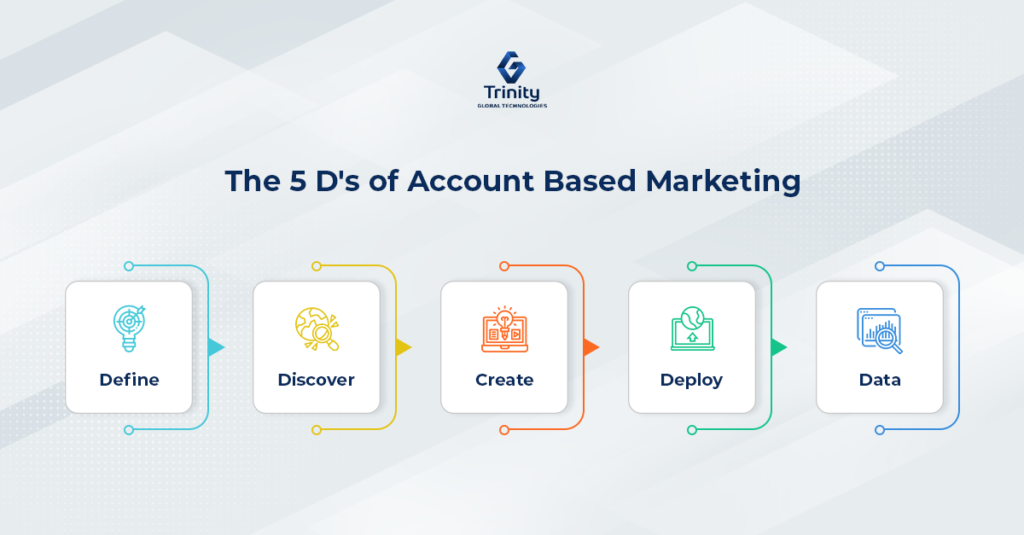 Define 
Organizations with strong ICP definitions can achieve up to 68% higher win rates.
– Pamela Bump, HubSpot
For the success of any account-based marketing campaign, the first step is defining your target accounts. This includes identifying your ideal client profile (ICP) and understanding their pain points. You must also create a target account list (TAL) that specifies the accounts that are a good fit for your brand. 
Once your TAL is created, you need to prioritize those accounts based on their potential value, urgency and likelihood to buy. You can use the lead scoring approach to ensure you're focusing on the right people at the right time. 
Here are a few tips to define your target accounts
ICP –

Who's your perfect client? What are their needs? Challenges? How will you help them mitigate those?

Existing clients

– Who's generating the max. revenue? Who's getting you the most referrals? What do they have in common? Align those with your ICP to help prioritize accounts better. 

Your Industry

– Who are the A-players of your industry? What are their pain points?
You can find information to answer the above questions via LinkedIn, Company Websites, Industry Publications, etc. Or you hire an ABM agency to do all these, while you focus on converting the accounts. 
Discover
Now that you have your TAL, what's next?
Next comes the research of all the keen details of your target accounts. This means, learning about their business targets, goals, challenges, pain points, decision-makers, influencers, buying process, etc. 
The best way to do this is to talk to the company employees directly, read their industry publications, attend their industry events and go through their website. 
Here's a list of tips to discover more about your target accounts. 
Multiple Sources

– The more sources you use, the more complete your picture of each account will be.

Be Specific –

Don't just focus on the company as a whole. Discover more about their department, processes, teams, and key individuals that you'll be targeting

Be objective

– Don't let biases cloud your judgement. Seek out unbiased perspectives to get the complete picture of your target accounts. 
In Account-Based Marketing, the more you know about your target accounts, the more personalized ABM campaigns you can launch. 
Develop
Now that you have a deep understanding of your target accounts, it's time to personalize your content and messaging. The whole point of account-based marketing is to tailor content for the specific needs and pain points of the target accounts. 
Here are a few tips to get you started 
Keep your target accounts in mind at all times

– While creating content, ask yourself, "Is this relevant to my target account?"

Leverage data and insights thoroughly

– Use your core insights and your target accounts at the forefront of your mind to create valuable and relevant content.

Explore a variety of content formats

– There's so much out there! There are blog posts, infographics, videos, e-books, etc. explore and experiment with all of those.
Not only that, but you can also create content that gives out free trials, demos, consultations, case studies, etc. For example, if you're targeting the healthcare industry, you must create content about the latest innovations, trends, challenges and opportunities relevant to the healthcare providers. 
Deploy
Account-based marketing is not easy. It is one of the most difficult marketing approaches to implement.
– Ascend2
In ABM, even your delivery needs to be personalized. You don't want to blast your target accounts with irrelevant and off-time content. This shows that your personalized delivery should also be strategic based on the preferences, and behavior of your target accounts. 
To strategically deploy your content, you can:
Segment your target accounts

– group your target accounts based on their needs, interests and preferences. 

Leverage multiple channels

– there are so many platforms out there. Research those where your target accounts interact the most. Then implement emails, social media, paid ads, etc to reach them.

Automate

– Automate as much as you can. Don't hoard the tools but develop a process out of those and deliver your strategic and personalized content effectively. 
Data
Finally, you're at the final step. Data tracking and feedback. This step is critical to ensure that your Account-Based Marketing campaign is successful. And, if it's not, this step is critical to analyse the 'Whys' and figure out the adjustments as needed. 
Some tips that you must remember while tracking your data are, 
Set clear ABM campaign goals

– This helps you identify the metrics you need to track your campaign.

Automate using the correct tools

– The tools can be for CRM, analytics, email marketing, SM marketing, prospecting, etc. 

Regular analysis

– This is critical to know early on if your strategy has any loopholes. It also gives you time to make the adjustments as needed. 
All of these and more are essential to run a successful account-based marketing campaign. Otherwise, what's the point? 
Account-Based Marketing is one the most difficult, yet one of the most powerful strategies to grow your B2B business. By following this 5D framework of ABM, you can ensure that your campaign is reaching your target accounts with confidence. We, at Trinity Global Technologies are experts in implementing account-based marketing for B2B businesses like yours. 
Interested in outsourcing your account-based marketing? 
Contact us today & let's discuss your ABM goals.